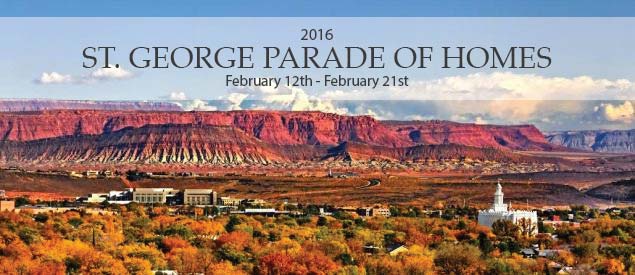 While it continues to be dreadfully cold and snowy in Northern Utah, St. George and Southern Utah are enjoying sunny days and forecasted 70-degree weather next week. St. George is also just about to kick off their annual home parade. Warm weather and beautiful homes sound like the perfect reasons to travel South to check out the 2016 St. George Parade of Homes! For those of you headed to the homes, all the details of 2016's first home parade are below. Enjoy!
What – 2016 St. George Parade of Homes. This year's Parade features 28 brand new homes! A whopping 13 of these homes are valued at over one million dollars and 5 are valued over two million. The most expensive house on this year's parade comes in at a cool 3.99 million dollars. Plenty of luxury, new technology and amenities to see in these homes!
Where – Homes are in and around the beautiful red rock of St. George and Washington County.
When – The 2016 St George Home Parade runs from Friday February 12th through Sunday February 21st. Daily hours for the homes are 10 am to 7 pm except the final day on the 21st which is 10 am to 5 pm.
How – Tickets are not sold at any of the homes but as always can be purchased at Red Cliffs Mall (center court), Lin's Markets, and Zions Bank locations in Washington County. Of course tickets can also be purchased online on the Parade's official website.
Cost – Tickets cost $15 and are required for anyone over 3 years of age. No children or senior discounts are available. Tickets are good for the entire period of the Parade.
Social Media – Check out the official social media accounts for updates, pictures, giveaways and more.
St George Parade of Homes Facebook
St George Parade of Homes Pinterest
Extras:
It is worth noting that the Parade is a self guided tour but each home will have exhibitors in the garage.
There is a Parade magazine but this is not typically available in advance of the Parade. It can be obtained at ticket locations or at any home if an e-ticket is purchased.
The Parade is run by the Southern Utah Home Builders Association.
As in years past the Parade offers a handy app to help navigate to Parade homes, get information on builders, use e-tickets and much more. The app is available both in the Android Play Store and the Apple App Store and is appropriately called "St. George Area Parade of Homes".
Image credits – St. George Utah SBDC