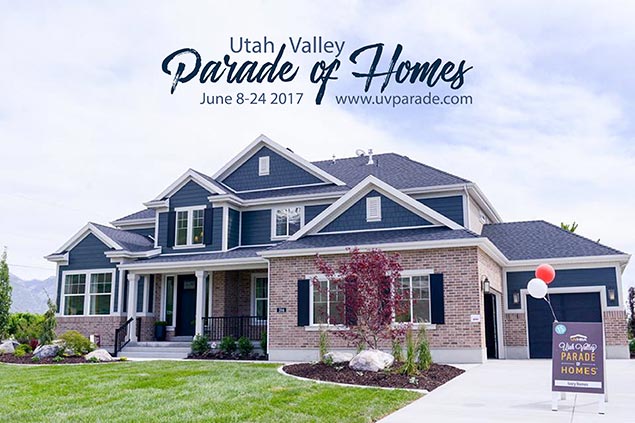 School is out, Memorial Day is here and that means Summer for all intents and purposes has arrived! Many good things come with the beginning of the Summer season and in the home industry this means home parades! Arguably the most well-known and popular of them all, the Utah Valley Parade of Homes, kicks off next week and runs from June 8 – June 24th. Check out below for the details on this year's parade.
When: June 8th – June 24th
What: 31 homes built by custom home builders in Utah to showcase builders and specialists. Homes range from 2000 square feet to 12,000 square feet and $400,000 to over $2,000,000.
Where: Locations across Utah Valley including: Saratoga Springs, Lehi (11th fastest growing in the US), Alpine, Highland, Elk Ridge, Vineyard (fastest growing in Utah!), Orem, Provo, Woodland Hills, Mapleton, and more.
Who: 29 custom home builders including Brinkerhoff Custom Construction, Candlelight Homes, Ivory Homes, D.R. Horton, Magleby Construction, Millhaven Homes, Fieldstone, Flagship Homes and more.
Schedule: Homes are open Tuesday through Saturday from 12pm to 9pm. Tours of the homes are self-guided and often have contractors and other companies with booths about more information on certain features or parts of the homes that they worked on.
Tickets: Kids over 6 years old need tickets but all family members are welcome. Tickets cost $15 and are good for the entire period and all the homes. The easiest way to buy tickets is through the UV Parade website.
Extras:
Home addresses will be available once the Parade starts. They will also be available in the UV Parade app ("Utah Valley Parade") which will be available on both iOS and Android devices.

The magazine will be available at all of the homes and you can pick one up at your first home visited.
Happy home touring!
Picture courtesy UV Parade of Homes (run by UVHBA) and Ivory Homes.