Utah is typically known for its moderate weather. In the summertime, temperatures can consistently reach 100F but are rarely, if ever, as humid (think Southeast) nor hot (think Arizona and Nevada) as some parts of the country where it can become unbearable. Likewise, winters generally see moderate temperatures and average amounts of snowfall, contingent of course on whether you are far North, far South, or in the Mountains. But the January of 2013 is going to go down in the record and memory books for all the wrong reasons.
Bone Chilling Temperatures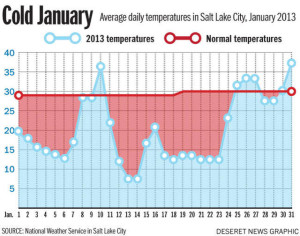 The most obvious unusual aspect of this winter has been the daily temperatures. Normally Utah winters, for example in Salt Lake City, average a daily high in the mid-30s and lows in the low 20s. But this January saw numerous days in which new record lows were established or nearly broken with temperatures often hovering in the single digits, if you were lucky and didn't have sub-zero days.
The average came in more than 10 degrees colder than usual at a bitter 18.5 degrees. It was the 5th coldest January on record in nearly the last 140 years! While most of this super cold weather has passed, undoubtedly heating and gas bills showing up in the near future will be reflecting these abnormally cold temperatures.
The Inversion & Freezing Rain
Another difficult aspect of this winter in Utah has been what is known as an inversion. An inversion is, in essence, a "rooftop" that traps bad air closer to the ground. Thus, not only do people have to deal with the rest of the hazards typically associtated with winter, but also have less sunlight and poorer air quality.  Additionally, many Utahns had to deal with something they've never seen nor experienced before–freezing rain. The freezing rain storm that paralyzed much of Northern Utah was only the 10th recorded such storm in nearly 80 years. Due to the temperatures being held down in the inversion, the freezing rain coated the Wasatch Front with a layer of ice and caused havoc for commuters (there were hundreds of crashes) and even simply walking around became hazardous as hospitals filled up with injuries resulting from falls. Not to mention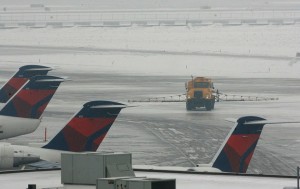 the impact it had on air travel in and out of Salt Lake International for tourists, businessman and vacation goers.
Big Storms
Contributing to the active winter weather in January were several big storms that caused dangerous commutes and many, many accidents across the Wasatch Front. While Salt Lake City saw nowhere near a record snow fall (50.4 inches in 1993) it did record 23.8 inches of snowfall in January – nearly double the average of 12.5 inches.
So with January now in the rear view mirror, here's hoping February brings more mild winter weather and signs of spring for which we can't wait to arrive!