There were several recent stories detailing how despite the recent economic difficulties the current downturn in the economy presents an excellent time to invest in a home. This is true whether it's for people who are looking to invest in a foreclosed home or new home owners looking to take advantage of the lowest prices in recent memory. We did some research on how this relates to Utah and have detailed what we could find below.
Utah Home Prices vs. National Average February 2012
The articles linked to above both point out that the National Association of Realtors recently reported that nationally the median home price in January of 2012 was only $154,700. This is outstanding considering that in 2007 it was $219,000 – which constitutes nearly a 30% decline in median home price over just the past five years. As the study notes this is the lowest median price in 10 years since the run up to the housing bubble began. Additionally, one expert notes that home values will continue to go down over the first half of 2012 due to foreclosures and short sales. With low mortgage rates and depressed home values without question there exist plenty of opportunities for the smart buyer.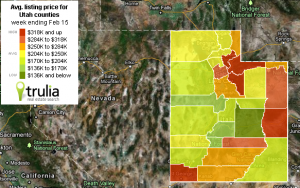 A couple of the major real estate sites have some very cool charts and heat maps to better explore how Utah compares to the national average and how Utah as a state breaks down. Trulia's site has a great resource that shows various housing indicators by county (average listing price , median sales price and Trulia popularity in terms of searches) visually on a heat map. Although the median sales price is outdated on the Trulia heat map (it shows from '06 for some reason) it is still useful to see how Utah breaks down in terms of avg. listing price and popularity of home searches. Not surprisingly the Wasatch Front counties lead the way in terms of popularity due to the higher concentration of residents. While similar counties have the highest avg. listing price due to wealthier areas. Nationally, Trulia has Utah as the 42nd most popular state for home buyers in terms of search traffic and an average listing price of $368,997. Again, this figure is probably inflated by high listing prices in Summit, Morgan, Wasatch and Washington counties. Zillow on the other hand shows an up to date median listing price for the state of Utah at $199,900. Using this value and Zillow's figures we can see that Utah is about 11% higher than the national average and 31st for lowest median listing price across the country. Nonetheless, a median listing price of around $200,000 and low mortgage rates have made it possible for many families to invest in a home.
With Utah boasting several cities and areas on the best places for a career and to raise a family in addition to its increasing reputation as a business friendly state it is no wonder that people are moving into Utah to take advantage of current home prices.