Our shutters offer many advantages to a home owner as they seek out the best option for window coverings. Read more about these advantages and history of plantation shutters below.
Custom Plantation Shutters by Utah Shutters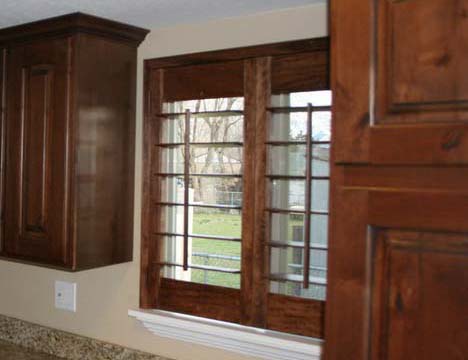 Our custom plantation shutters are produced and handmade locally. Currently we offer several wood types for your shutters such as poplar or basswood (which are similar types of wood) and alder. In addition to these options Utah Shutters is willing to produce shutters using other types of wood based on the customer's preferences when feasible. Further details about this possibility can be found on the FAQ page. Each of these types of shutter woods has their disadvantages and advantages but Utah Shutters is confident that you'll be satisfied with whatever type you choose. Our custom plantation shutters offer numerous benefits to those who choose to have shutters installed in their home:
Durability – read more about our Lifetime Craftsmanship Warranty.
Quality – we only use the finest materials and have years of experience building shutters to our customer's exact desires.
Functionality – shutters provide an excellent ability to provide maximum privacy, block and/or allow sunlight, heat, cold, debris, wind and drafts in the home which can contribute greatly to a more energy efficient home.
Beauty – our shutters are not only functional and long-lasting but can significantly increase the beauty (and value!) of a home.
Shutter History and the Birth of "Plantation Shutters"
Plantation shutters, by far the most common and popular type of shutters, are ubiquitous in some parts of the United States.  But this wasn't always the case as shutters have grown in popularity over time after immigrating from Europe.
Shutters have a long history of providing functionality and beauty to homes. Shutters  were first used hundreds of years ago in order to keep light, drafts, debris and the elements (rain!) out of people's homes. (Some accounts even reference shutters being used in  Greece as early as the 15th century and evolving from rocks to eventually marble slabs!) In addition to being the preferred window covering for the aforementioned reasons shutters also have always proven to be easy to use and maintain, durable and asthetically pleasing no matter the house. After shutters spread across Europe and the Mediterranean the spread of shutters eventually reached the United States when it was colonized by the Spanish. These shutters which had become common in Europe were used in many of the colonists' mansions on the sugar and cotton plantations. Unsurprisingly the shutters began to be called "plantation shutters!"   Over time shutters have evolved into being made out of all different types of wood and continue to provide many of the same great benefits that people originally sought them for – protection from the elements (and even unwanted guests such as house thieves in times gone by), privacy, beauty, easy to maintain and extremely durable.