Previously we put together a list of some of the biggest Utah home builders for all those who might be looking to buy a new home in Utah. In addition to the many "big" home builders there are many custom home builders in Utah. Utah truly does have some of the most beautiful and breathtaking custom homes in the nation. Below you'll find a list of some of the best of Utah's custom home builders, their websites and some background information on the company and founders wherever possible.
Making Your Custom Home In Utah A Reality
Below is a quick table of contents for the custom home builders we've profiled. Click on any name to jump to a brief overview of the home builder and a link to their website. Builders are listed in no particular order.
McEwan Custom Homes

Founded by Matt McEwan in 2003, McEwan custom homes has some of the most stunning homes in the state of Utah. To point, Matt's company has won the People's Choice Award of the Utah Valley Home Parade 3 years running. Just take a look at the picture below and then jump over to their website to see more. McEwan custom homes are typically high end custom homes and can range from 7500-15000 square feet.
With initial interest in architecture and designing homes ultimately Matt decided to build homes and since founding McEwan custom homes he hasn't looked back. For 10+ years Matt has built homes across the Wasatch Front with many of them in the Highland and Alpine area.
Visit the website here: McEwan Custom Homes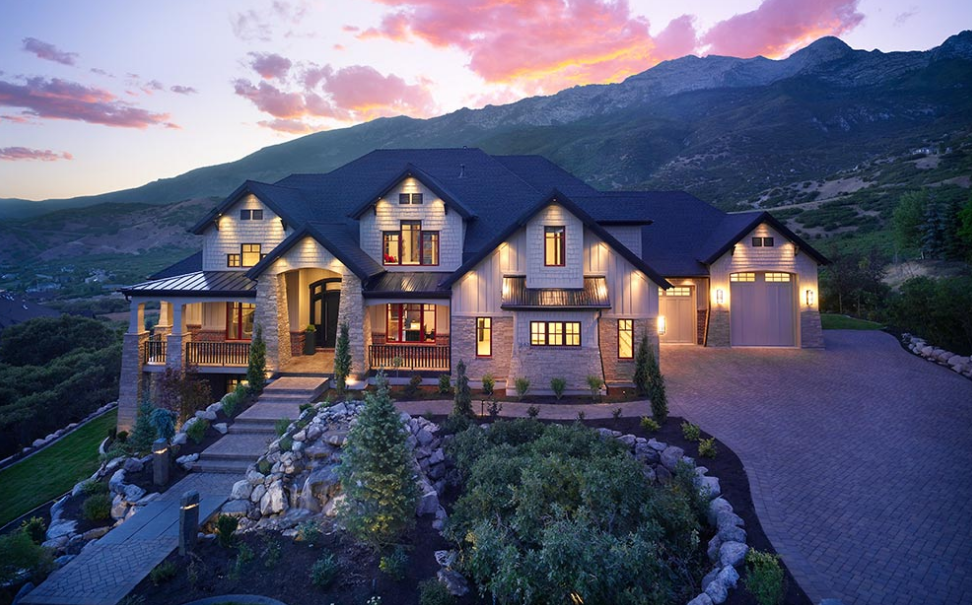 1 Utah Homes
1 Utah Homes is located in Salt Lake City and builds custom town homes and homes throughout the state of Utah. They provide floor plans on their website or allow builders to simply have 1 Utah Homes help you build your plan on your lot.
1 Utah Homes is less of a luxury builder and more of a "normal" home builder with their floor plans for town homes, ramblers and 2 story homes averaging 1800, 3500 and 3500 sq. feet respectively.  They are currently building in both urban and rural communities in Pleasant Grove, Lehi, and several places in Salt Lake City.
Currently Lynn Bowler is the President of 1 Utah Homes.
Visit the website here: 1 Utah Homes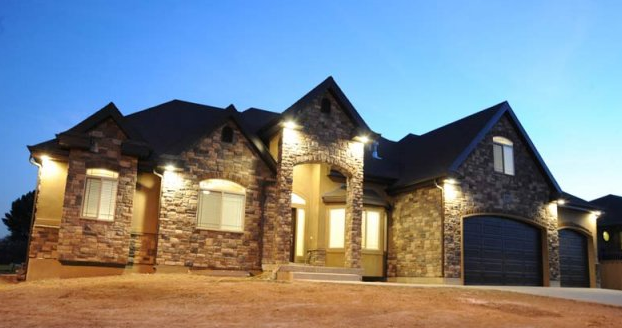 Ezra Lee Design + Build
Ezra Lee builds custom high end homes mainly in the Lehi area, though they also build homes throughout Utah and Salt Lake County, including Park City. A number of their homes are contemporary in design. Unlike some other custom home builders who use plans from designers or architects Ezra Lee touts themselves as both "designers and builders".
Below is an example of one of their more contemporary looking homes. If this is what you are looking for then jump over to their previous homes and projects to take a look.
For more information visit the Ezra Lee Website.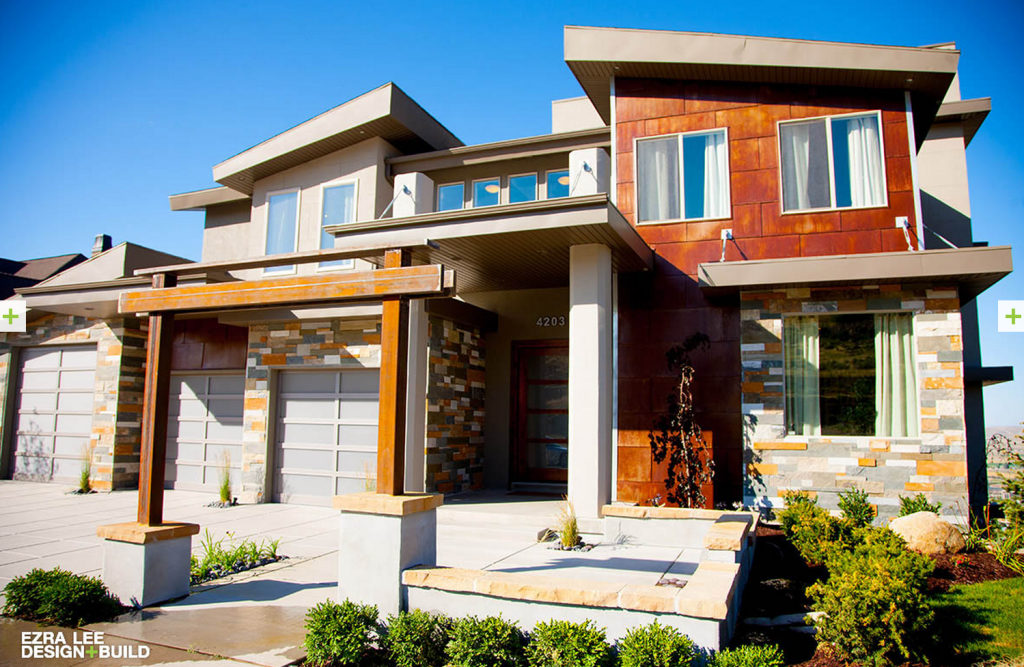 DaVinci Homes
Located in Salt Lake City, DaVinci builds custom homes across the Wasatch Front.  In addition to working with those looking to build custom homes DaVinci also sells their own custom-designed plans. Customers have the option of working with DaVinci throughout the entire process or simply having DaVinci help with the lot and/or the plan itself.  The DaVinci website includes the ability to search for available lots, builders and plans.
Visit the DaVinci Website for more information.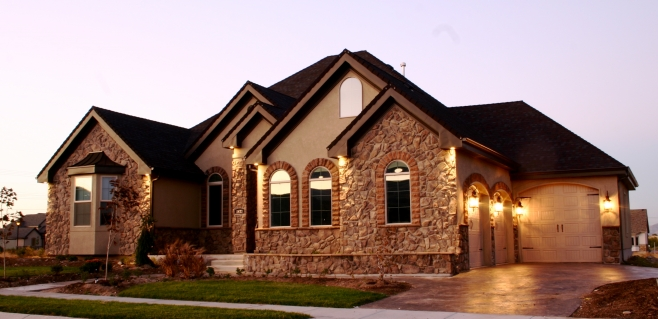 Wright Homes
Located in Salt Lake City, Wright Homes was founded in 1995 by a father and son duo. Today that same son, Derek Wright, and a brother continue to build homes across the Wasatch Front and even some homes in Southern Utah.  Unlike some of the other custom home builders Wright Homes has some homes that would not be considered "high end" with prices ranging in the 300-500K range. Though like other custom home builders they also build and offer higher end homes in the 500K+ range.
Wright Homes is a regular participant in various Utah Home Parades winning previous awards in different years. Additionally they were the 2006 Salt Lake Home Builder of the Year and 2010 Sandy City Home Builder of the Year.
For more information and the process of building a custom home visit the Wright Homes Website.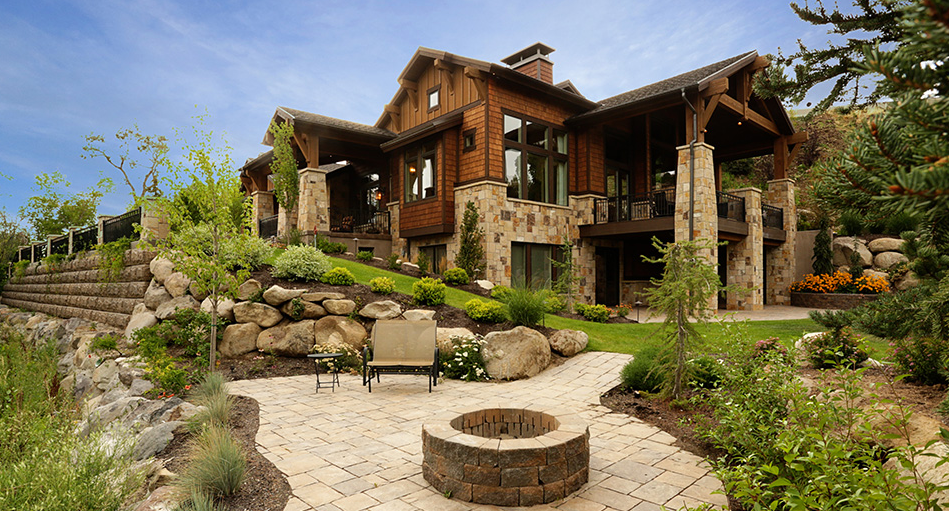 Pepperdign Homes
Pepperdign Homes is located in Herriman and primarily builds homes in Salt Lake, Utah and Wasatch County. Pepperdign was founded (2006) and is run by partners Trent Maddox and Eric Wolf.
Pepperdign builds both fully custom and semi-custom homes. Home buyers can either select a pre-designed plan or go through the process of having Pepperdign design the home to their exact specifications. Use their website to select an existing plan or contact them today to get the custom process started. One unique thing about Pepperdign is the fact that they usually do all the construction financing. This just means that when the home is done the financing is then transferred to the home buyer rather at the beginning of the process. This reduces risk for the home buyer and provides them with the assurance that the home will be done well!
Check out Pepperdign Homes Website for more information.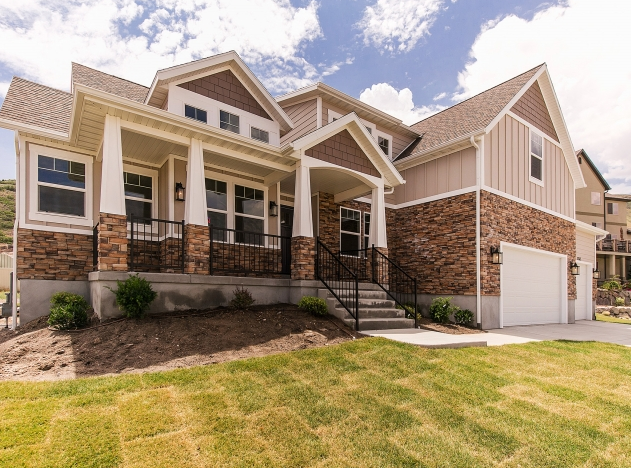 Flint Custom Homes
Flint Custom Homes was founded and is owned by Steve Flint. Steve has over 30 years of experience and is a second generation builder. Unlike many of the other custom home builders on this list Flint primarily builds homes throughout Northern Utah in Davis, Morgan and Weber counties. Flint takes a "woman-centric" approach to building homes. This means that because women are primarily the ones who spend the most time in the home and influence the initial purchase much of the design and build focuses on their insights and thoughts.  By doing so Flint believes that "homes" rather than "houses" are created.
Flint can either build your custom home based off a plan you already have or help you design a plan from scratch. Likewise, you can buy a lot in advance of working with them or evaluate lots and properties they have available for your dream home.
Below is Flint's "Sarah" design and home. More details can be found on the Flint Custom Homes Website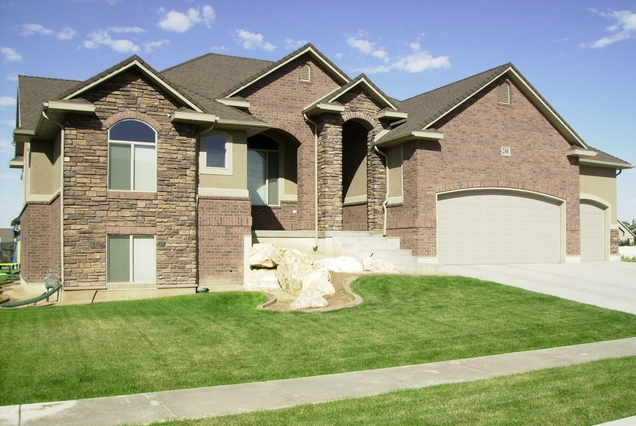 Rainey Homes
Rainey Homes started in 1994 after founder and current owner Joe Rainey built a home for the Wasatch Home Builders Parade of Homes. Since that time Joe has built many custom homes across Utah with the primary areas being South Jordan, North Salt Lake, Farmington and Park City. One of the focuses of Rainey Homes is to provide custom homes at a more reasonable price. Nonetheless, Rainey prides itself on the quality of their homes and have won many awards in both Parades and Builder of the Year awards.
Rainey offers pre-designed plans (available on the website) that customers can choose from as well as the option to fully customize your own plan. Rainey also provides a "final sales price" rather than an estimate of what your custom home will cost to build. No surprises on the final price tag after construction.
Visit the Rainey Homes Website for more information.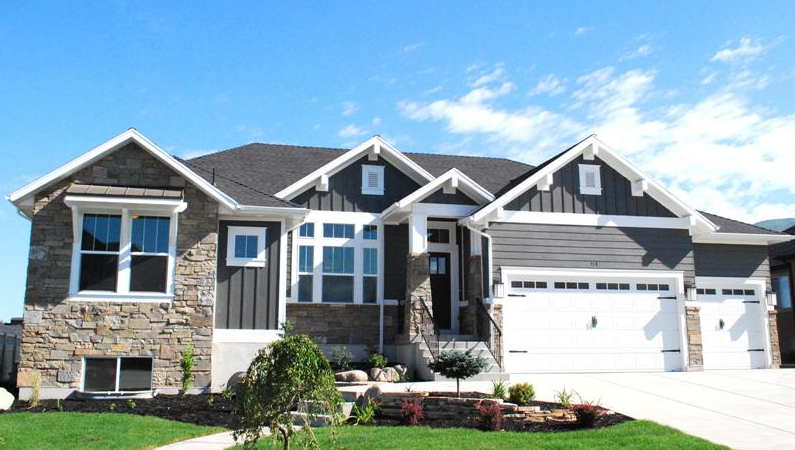 Magleby Construction
While Magleby may be known more as a construction company offering a variety of services and ancillary businesses they also build custom homes. In fact they've built custom, or "Estate Homes" as they call them on their website, since 1974. With the original owner Paul Magleby still involved Magleby Construction has gained a national reputation for custom homes.
Find out more about their homes on the Magleby Website.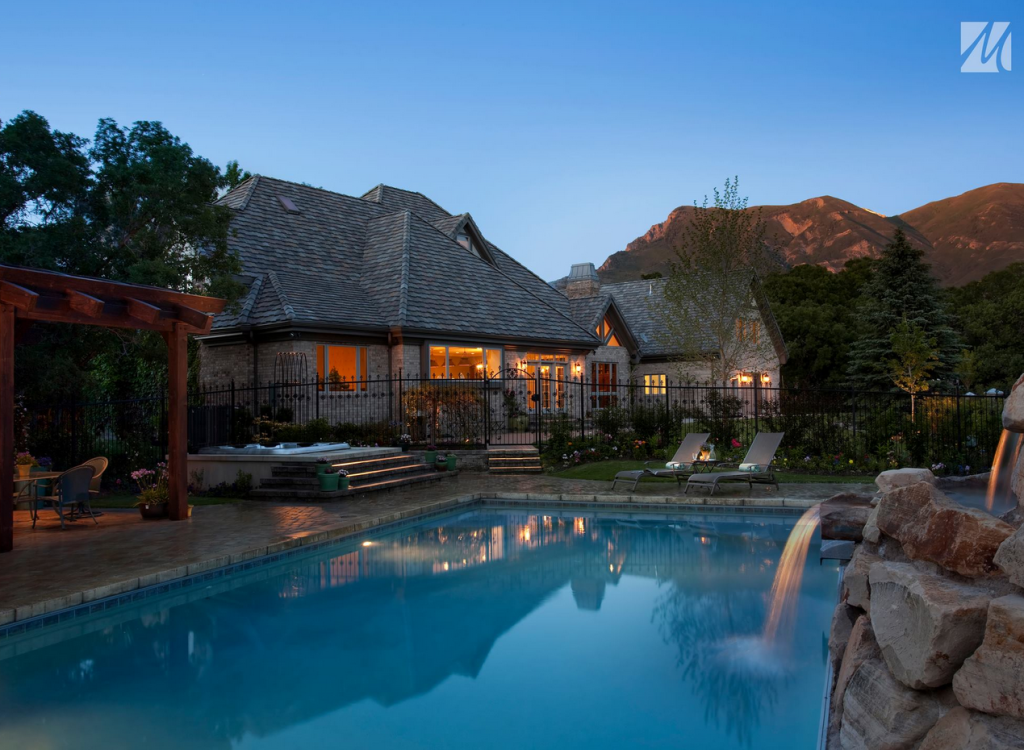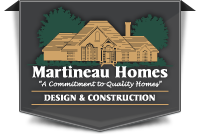 Martineau Homes
Founded and still run by Chris Martineau, Martineau Homes has been around for more than 25 years. Martineau homes stretch across the Wasatch Front with current lots in the Hidden Meadow Subdivision in Farmington and Sun Dance Ridge at Snowbasin. Martineau builds some absolutely stunning homes that would definitely fall in the "high end" luxury homes segment.
Check out the Martineau Homes Website for more information.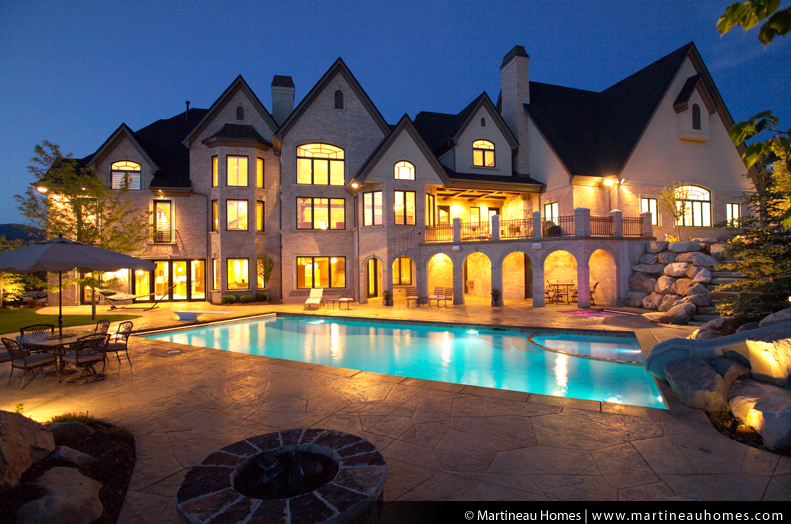 E Builders
Like several other custom home builders in this list E Builders has previously entered their custom homes in the annual Utah Parades and they are gorgeous.  E Builders is able to help you build your own home/floor plan on your own lot, provides floor plans or even allows their plans to be customized. E Builders is a custom Utah home builder (semi and fully custom homes) that builds homes in Salt Lake and Utah County and across the Wasatch Front. E Builders was founded in 2005 by co-owners Cory Olsen, Clint Hales and Nate Larsen.  E Builders' focus is in managing the day to day operations of building a dream home and with over 45 years of building experience they are well equipped to do so.
Generally they build higher end luxury homes that range in the $250,000-750,000 (semi-custom homes) to 1,000,000+ for the luxury homes. They also build multi-family units that start at 150,000. The former two generally average between 5-10,000 sq. feet while the latter is in the 2500-4000 sq. feet range.
Visit the website here: E Builder Homes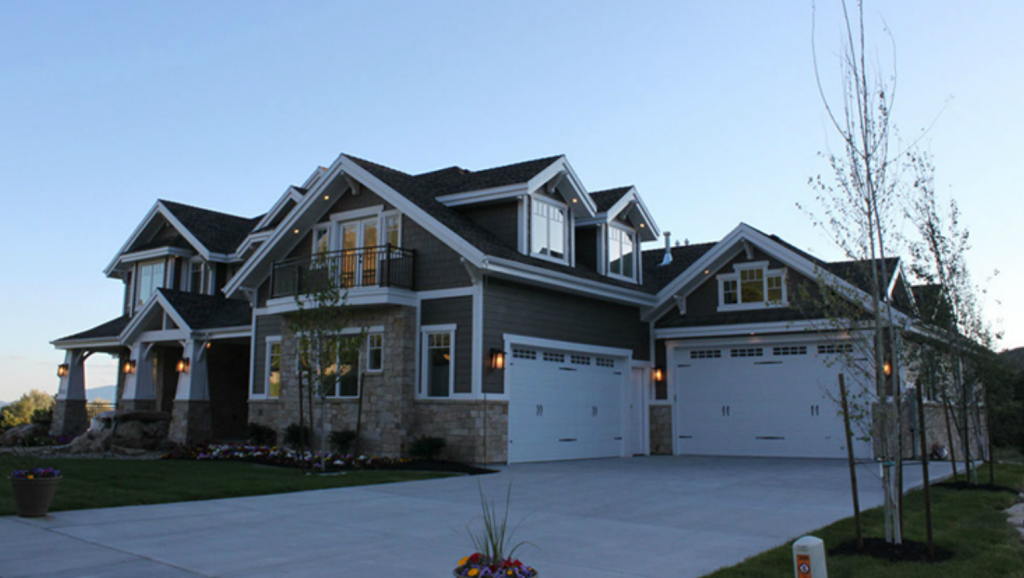 Robert Nelson Construction
Robert Nelson Construction has been building custom homes in Utah since 1977 when Robert Nelson started his company. Robert still runs the company today while his son Matt works as the construction supervisor. Rounding out the team is Darrell Thomas who is the on-site supervisor of the custom homes built by Robert Nelson Construction.  Not surprisingly both the company and team are accredited in numerous ways and extremely decorated with past awards of excellence.
Home builders are able to build their own custom home on their own lot or use a floor plan provided by RNC. RNC builds not just high-end homes like some of the other builders on the list but everything from starter homes to retirement homes and everything in between.
More information about their homes can be found on their website here: Robert Nelson Construction.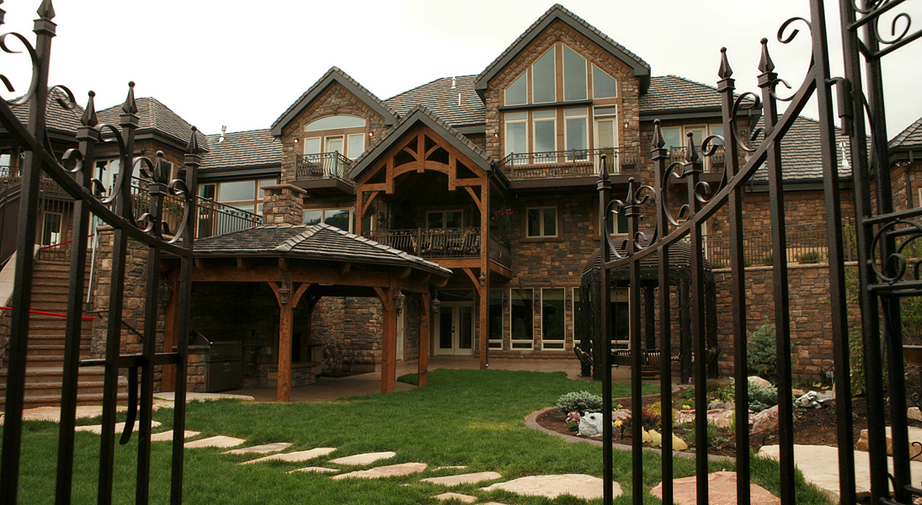 Upland Development
Though there isn't a lot of information on the Upland website it is apparent that most homes they build our high-end luxury homes that most likely fall in the 500K+ and 7500 square feet or more range. The homes and the exteriors are absolutely stunning.Upland Development was founded and is run by Ryan and Jessica Taylor. It is currently located in Holladay but builds high end custom homes across the Wasatch Front. Their homes are truly breathtaking and have won many awards over the years in various Utah Parades.
To see some of their homes and contact Ryan or Jessica, visit the website here: Upland Development.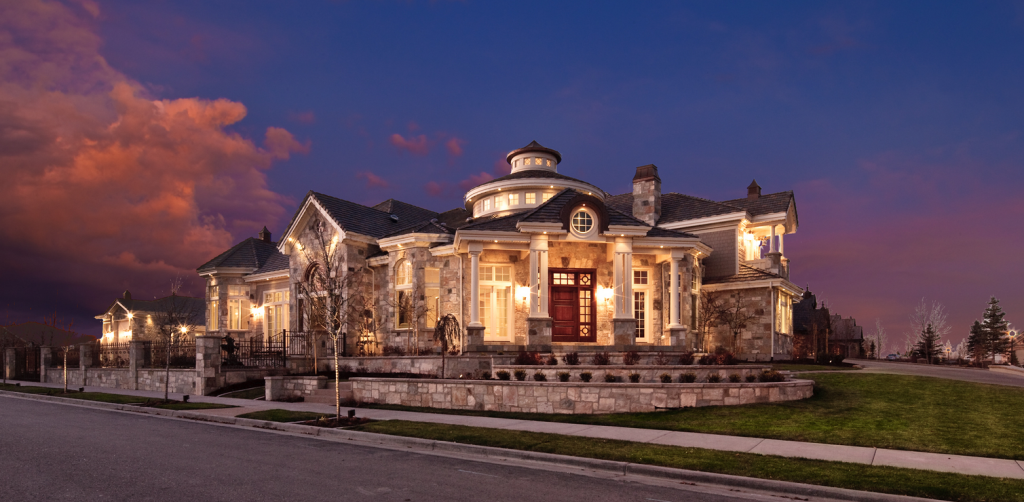 Chatwin Homes
Chatwin Homes was founded and is run by Rick Chatwin. It has been in business since 1995 and builds homes across the Wasatch Front. Chatwin has built homes for the Utah Valley Parade of Homes for a number of years and has won a variety of awards.
To get more information about Chatwin visit the website here: Chatwin Homes.
Gough Homes
Gough Homes isn't a pure custom home builder but does enough custom homes to be included in the list. Gough has been building homes in Utah for over 35 years. In addition to custom homes they also build commercial buildings and residential infrastructure.  Gough is a family owned and operated Utah Business so they know Utah and all of its communities.
Due to their many years of experience Gough offers the gamut of services when building homes including interior design, architecture, excavation/backfill, and concrete work/foundations. For services they don't offer Gough has lasting relationships with a wide variety of trusted and highly skilled subcontractors.
Gough primarily builds communities across the Wasatch Front including West and South Jordan, Draper, Herriman, Bluffdale and more. Gough's custom homes start at $350,000 and up. They offer A LOT of floor plans right on their website for builders to find their dream home.
To learn more visit their website here: Gough Homes.
While this list covers a number of Utah's custom builders we're sure there are others we're unaware of so let us know in the comments if we've missed any and we'll make sure to add them to the list.